Bangkok, Thailand's largest city, is a popular tourist destination renowned for its vibrant nightlife and exotic food. While Bangkok offers a seemingly never-ending supply of activities and attractions, visitors should be aware of some of the city's quirks before planning a visit.
First and foremost, Bangkok is hot and humid year-round. While the weather may be a deterrent for some, it's also part of what makes Bangkok so unique. Those who are able to adapt to the weather will be rewarded with a lively and energetic city that never sleeps.
Bangkok is also a city of contrasts. With its wealth of ancient temples and palaces, Bangkok is home to some of the most impressive historical sites in Southeast Asia. At the same time, the city is also a modern metropolis, filled with towering skyscrapers and glitzy shopping malls.
One of the great things about Bangkok is that it's a relatively affordable city to visit. Whether you're looking to experience the city's best restaurants or go shopping for souvenirs, Bangkok has something to offer for everyone.
When planning your visit to Bangkok, it's important to be aware of the city's notorious traffic congestion. If possible, try to avoid travelling during rush hour. Alternatively, consider using Bangkok's extensive public transportation system, which includes buses, trains, and boats.
Bangkok is a city that has something to offer everyone. Whether you're looking for a busy city filled with activities and attractions or a more relaxed beach town, there's a place for you in Thailand. Bangkok, with its never-ending energy and mix of old and new, is a perfect place to start your exploration of this fascinating country.
Ad
Bangkok tips
Bangkok is one of Southeast Asia's most popular tourist destinations for a good reason: it has something for everyone. From historical temples to towering skyscrapers, bustling markets to quiet gardens, Bangkok has attractions to suit all tastes. Sightseeing in Bangkok can be incredibly rewarding, but it can also be overwhelming, especially for first-time visitors. The city is huge and there's a lot to see. Here are some tips to make the most of your time in Bangkok and see the best that the city has to offer.
1. Get oriented
The best way to get your bearings in Bangkok is to take a river cruise. The Chao Phraya River flows through the heart of the city, and offers a unique and interesting perspective on Bangkok's many temples, markets, and skyscrapers. The tour boats usually make a few stops, so you can explore the area on foot.
2. Visit the Grand Palace
The Grand Palace is one of Bangkok's most famous and popular attractions. It's a stunning complex of temples and palaces that was home to the Thai royal family for centuries. The palace is open every day from 8:30am to 3:30pm, and it's best to arrive early to avoid the crowds.
Grand Palace // Wat Phra Kaew, Na Phra Lan Rd, Phra Borom Maha Ratchawang, Phra Nakhon, Bangkok 10200, Thailand
3. Explore the temples
Bangkok is home to some of the most stunning temples in the world. Some of the most popular temples to visit include the Grand Palace, Wat Arun, and Wat Pho. All the temples offer a fascinating glimpse into Thai culture and religion.
4. Shop at the markets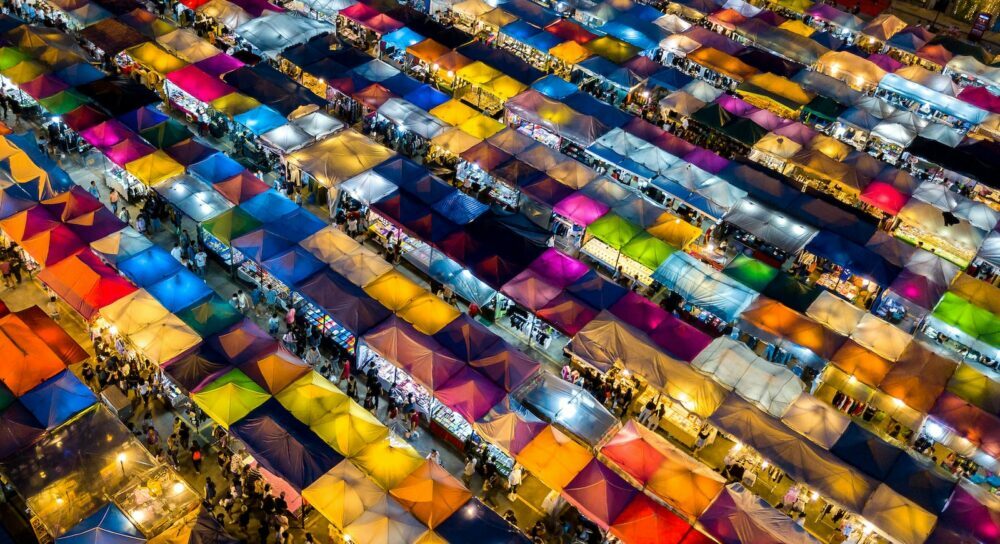 Bangkok is famous for its lively markets, which offer a unique shopping experience and a chance to see everyday Thai life in action. The best markets to visit are the Chatuchak Weekend Market, the Floating Market, and the Jim Thompson House.
Rod Fai Night Market, 1 4 Srinagarindra Rd, Nong Bon, Prawet, Bangkok 10250, Thailand
Chatuchak Weekend Market, Kamphaeng Phet 2 Rd, Chatuchak, Bangkok 10900, Thailand
Floating Market, 51 Damnoen Saduak, Damnoen Saduak District, Ratchaburi 70130, Thailand
Jim Thompson House, 6 Kasem San 2 Alley, Wang Mai, Pathum Wan, Bangkok 10330, Thailand
5. Ride the skytrain
Bangkok's skytrain is a great way to get around the city. The trains are fast, efficient, and affordable, and they offer a great view of the cityscape.
6. Visit a spa
After a long day of sightseeing, nothing is better than a relaxing massage or spa treatment. Bangkok is home to some of the best spas in the world, so be sure to treat yourself to a massage or a spa treatment.
Bangkok is a beautiful and lively city that has something for everyone. Whether you are looking for temples, nightlife, or shopping, Bangkok has it all. The people are friendly and welcoming, making it a fun and easy city to visit.
By the way: Do you know that Bangkok is called officially Krung Thep by thai people? And this is just the short version. The whole name of Bangkok is:
Krung Thep Maha Nakhon Amon Rattanakosin Mahinthara Ayuthaya Mahadilok Phop Noppharat Ratchathani Burirom Udom Ratchaniwet Maha Sathan Amon Piman Awatan Sathit Sakkathattiya Witsanukam Prasit