Singapore is often overlooked by travelers exploring Southeast Asia. While it's known for being one of the pricier destinations in the region, it's unfairly dismissed as 'just another big city.' It's a missed opportunity, as Singapore offers a vibrant blend of tradition and modernity. Here, you can savor a steaming bowl of noodles at a hawker center, prepared from a generations-old recipe, and later sip a cocktail at one of the world's most famous cutting-edge rooftop bars. Singapore is a city of depth and excitement, far more than just another metropolis – it's complex, captivating, and incredibly enjoyable.
Country Overview
Referred to as the 'Lion City,' Singapore sits on the border with Malaysia and stands as the world's sole island city-state. Established by British national Stamford Raffles on former fishing village and swamp lands, Singapore gained independence in 1963. Its population is a diverse mix of Malay, Tamil, and Chinese communities, a multicultural tapestry reflected in its architecture, religious diversity, and cuisine. From its humble beginnings, Singapore has evolved into an economic powerhouse, boasting a strong commitment to conservation, environmental protection, and social welfare programs. Residents enjoy a high quality of life, exceptional healthcare, and impressive life expectancy.
Tourism is a vital part of Singapore's economy, with offerings catering to travelers of all budgets, from frugal backpackers to luxury aficionados. Public transportation, tourist attractions, and visitor information are readily available, and English is widely spoken. So, whether you seek sightseeing, relaxation, culinary delights, or coastal escapades, Singapore won't disappoint. It's a welcoming and user-friendly city, filled with temples, gardens, boat tours, beaches, shopping districts, and local markets. Whatever your preferences, a journey to Singapore has it all, from backpackers to luxury travelers, families to couples. The Lion City eagerly awaits your visit. Have a roaring good time!
Things to Do and See
Merlion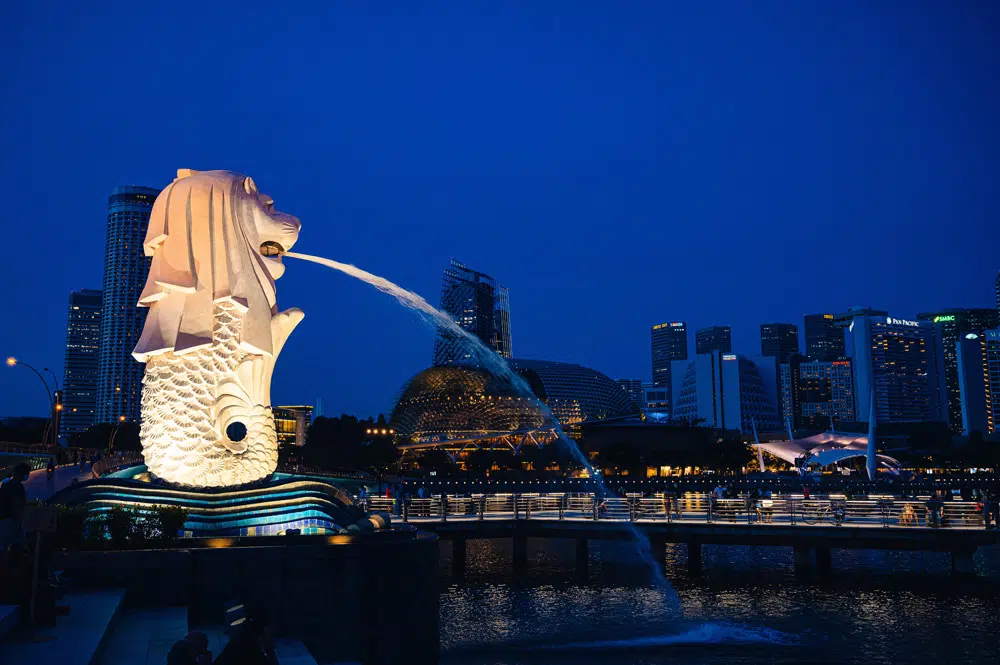 Arguably one of the most iconic sights in the Lion City, the renowned Singapore Merlion is a sculpture symbolizing Singapore's history as a fishing village. It features the body of a fish representing the village's past and the head of a lion, a nod to Singapore's name ('Singapura' means Lion City in Malay). This statue stands on a viewing platform extending over the Singapore River, with a continuous water fountain gushing from the Merlion's mouth. Constructed from cement and porcelain plates, visitors can capture photos with the lion against the backdrop of the city.
Location: Merlion Park, 1 Fullerton Square, Singapore.
Singapore Botanic Gardens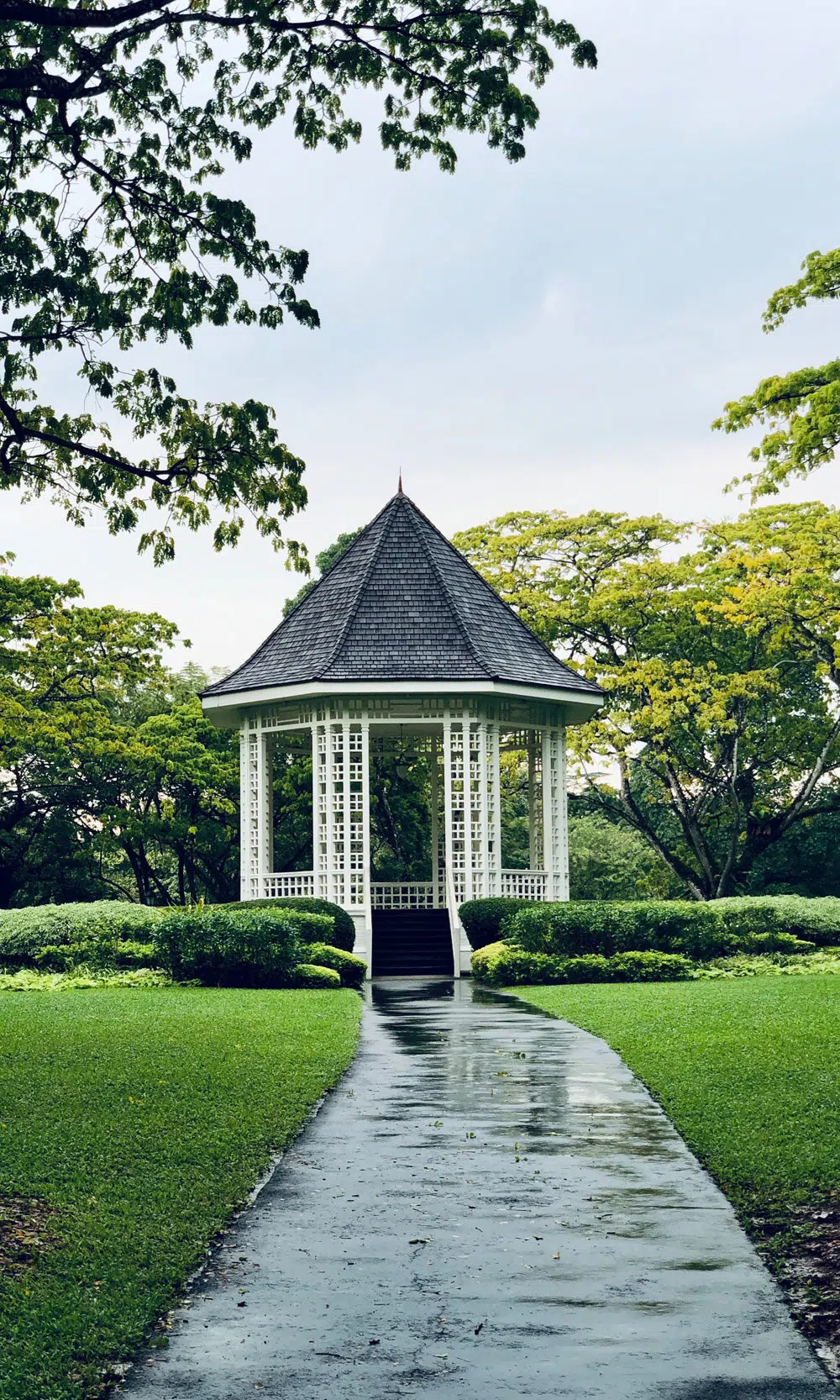 A UNESCO World Heritage Site, the Singapore Botanic Gardens boasts a prestigious 150-year history, and it's the only botanical garden globally with such recognition. The gardens include a lawn pavilion for picnicking, a ginger garden, an orchard garden, a children's area, and a small rainforest section. Several lakes, including Symphony Lake, provide a stage for periodic concerts throughout the year.
Location: 1 Cluny Road, Singapore.
Singapore Flyer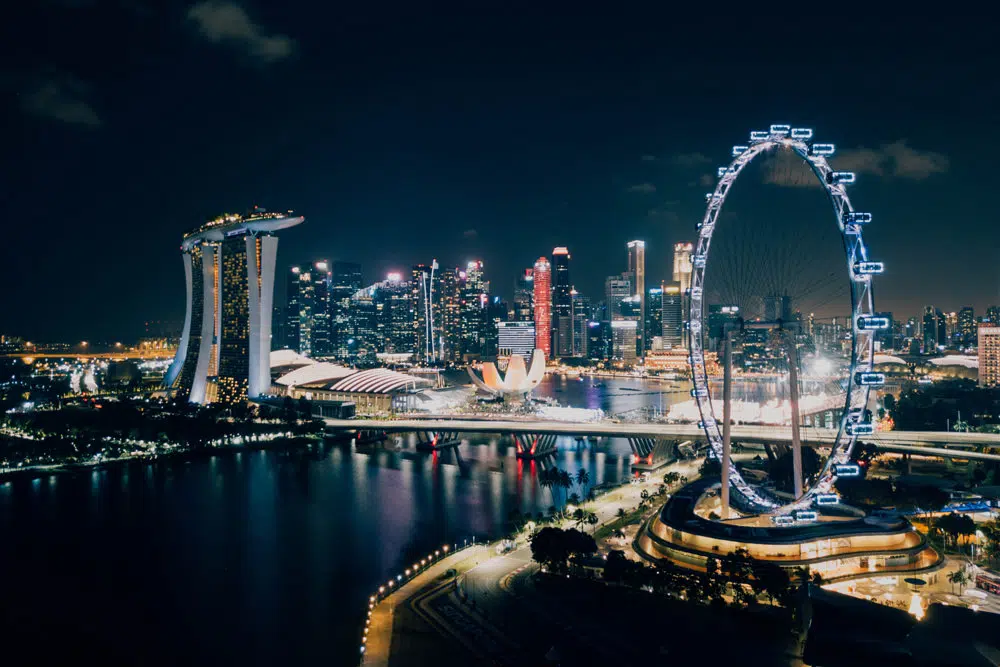 Opened in 2008, the Singapore Flyer stands as a massive wheel with twenty-eight observation pods, offering breathtaking city views. At 165 meters in height, it was once the world's tallest observation wheel. From this vantage point, you can gaze at Marina Bay Sands and the city's broader expanse. You can simply enjoy a ride on the wheel, or explore special packages offering dining and beverage options within the pods.
Location: 30 Raffles Avenue, Singapore.
Sri Mariamman Temple
This temple, renowned as Singapore's oldest Hindu temple dating back to the 19th century, is dedicated to the goddess of illness and disease, Mariamman. Visitors can admire the intricate ornate carvings that adorn the colorful facade, depicting Hindu myths and legends. You can also explore the interior and witness the temple in active use.
Location: 224 South Bridge Road, Singapore.
Night Safari
Unlike traditional zoos, the Singapore Night Safari opens only at night, aligning with the natural nocturnal behavior of its animals. The safari is illuminated with special moonlight-like lighting to avoid disturbing the animals. Visitors can explore the safari on walking tours and guided tram tours. Additionally, cultural performances, including a fire show, and dining options are available within the safari park.
Location: 80 Mandai Lake Road, Singapore.
Resorts World Sentosa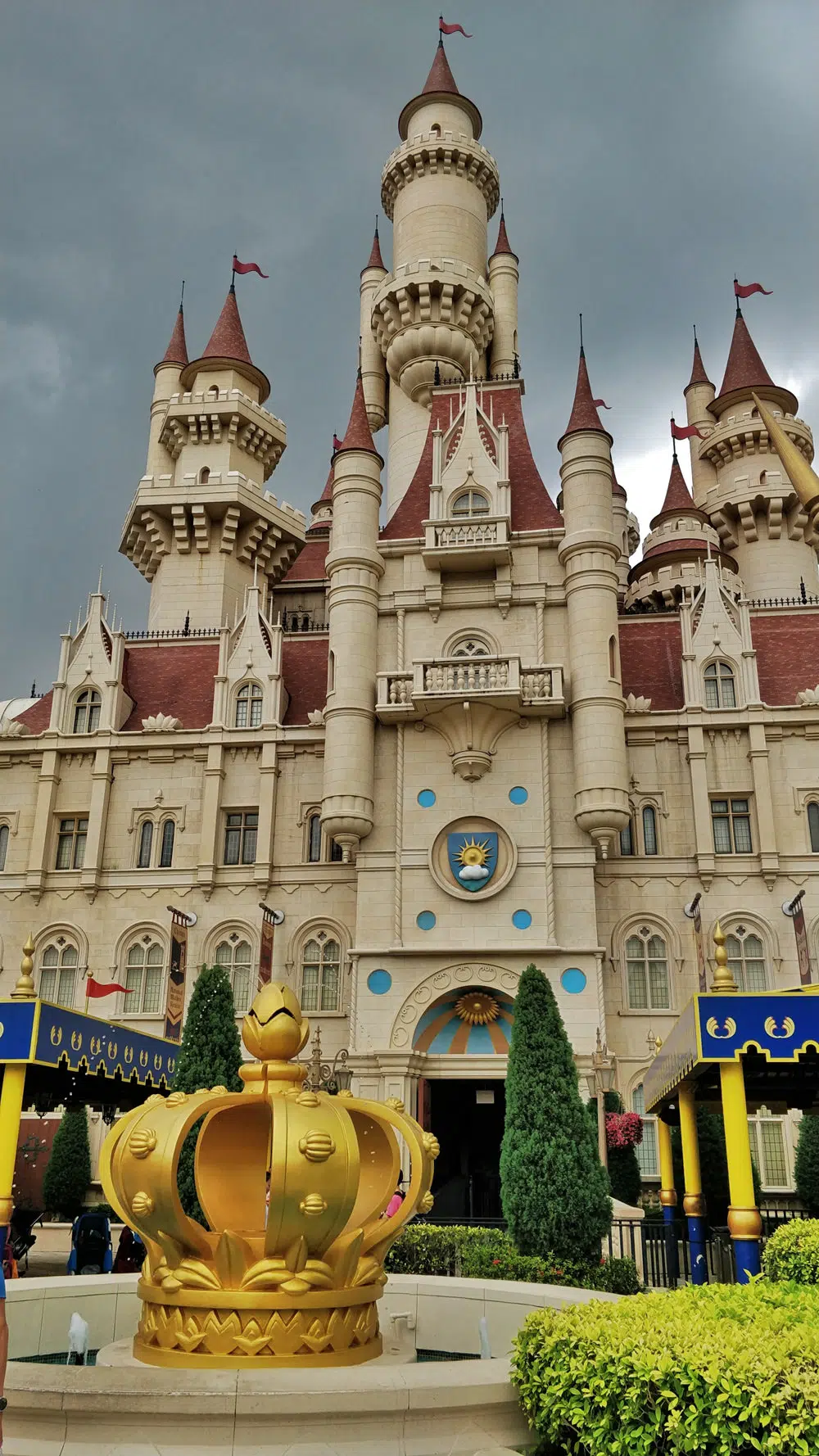 Resorts World Sentosa is a resort area situated on the island of Sentosa in Singapore. It features hotels, casinos, restaurants, spas, and a marine park. The resort hosts cultural shows and houses the Maritime Experimental Museum, which offers insights into Singapore's maritime heritage. In the East Zone of the resort, you'll find Universal Studios Singapore, the first branch of the Universal Studios franchise in Southeast Asia, catering to film enthusiasts in the region.
Location: 8 Sentosa Gateway, Singapore.
Fort Canning Park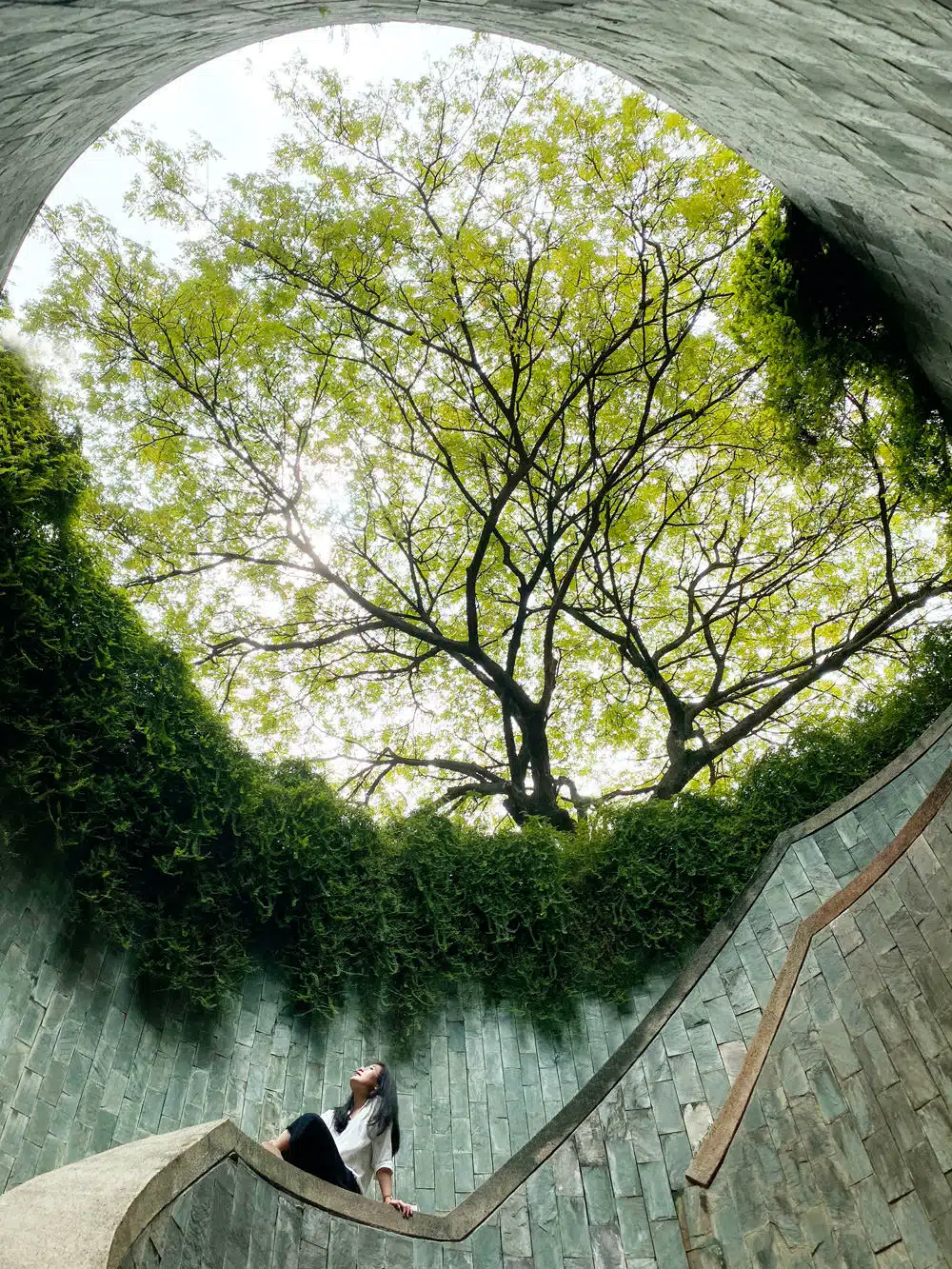 Located on a hill area in Singapore, Fort Canning Park holds historical significance, once serving as a residence for Stamford Raffles. Today, it's transformed into a park where visitors can explore various trails, visit a spice garden, memorials, and lush green spaces. The park often hosts musical performances and outdoor events.
Location: River Valley Road, Singapore.
Sultan Mosque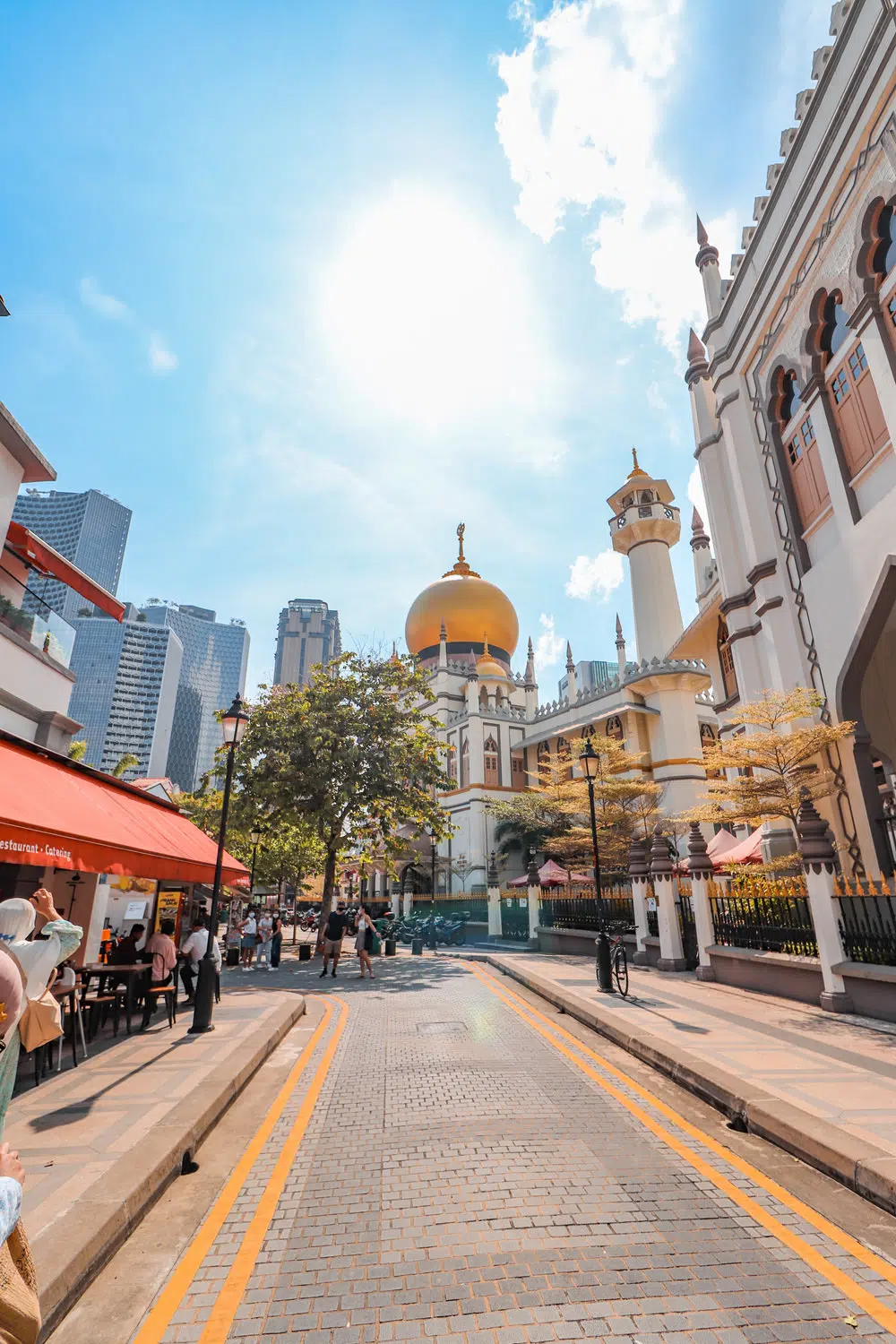 Situated in the Muslim quarter of Kampong Glam, this majestic mosque is an iconic landmark in Singapore, known for its towering gold dome. It was once part of the Sultan of Singapore's living complex, hence its name. Built during the colonial period, the mosque exhibits a blend of British and Islamic architecture. Guided tours are available outside prayer times, and appropriate dress is required (provided on-site if needed).
Location: Intersection of Muscat Street and North Bridge Road.
Culinary Delights
Singapore is a paradise for food enthusiasts, offering a wide array of culinary options. Traditional hawker centers are a cornerstone of Singaporean dining, where food stalls typically specialize in one specialty dish. For those seeking fine dining experiences, the city boasts upscale eateries featuring international cuisine and modern interpretations of local classics. Singaporeans have a penchant for eating, and the city embraces a 24-hour dining culture, offering a plethora of street food and snack choices.
328 Katong Laksa
For a taste of a traditional Peranakan favorite, representing the Straits Chinese population in Singapore, head to 328 Katong Laksa. Savor a comforting bowl of curried soup topped with prawns, cockles, fishcake slices, and bean sprouts, all mixed with coconut milk. This humble café is legendary in Singapore for its delectable laksa.
Location: 51 East Coast Road, Singapore.
Lolla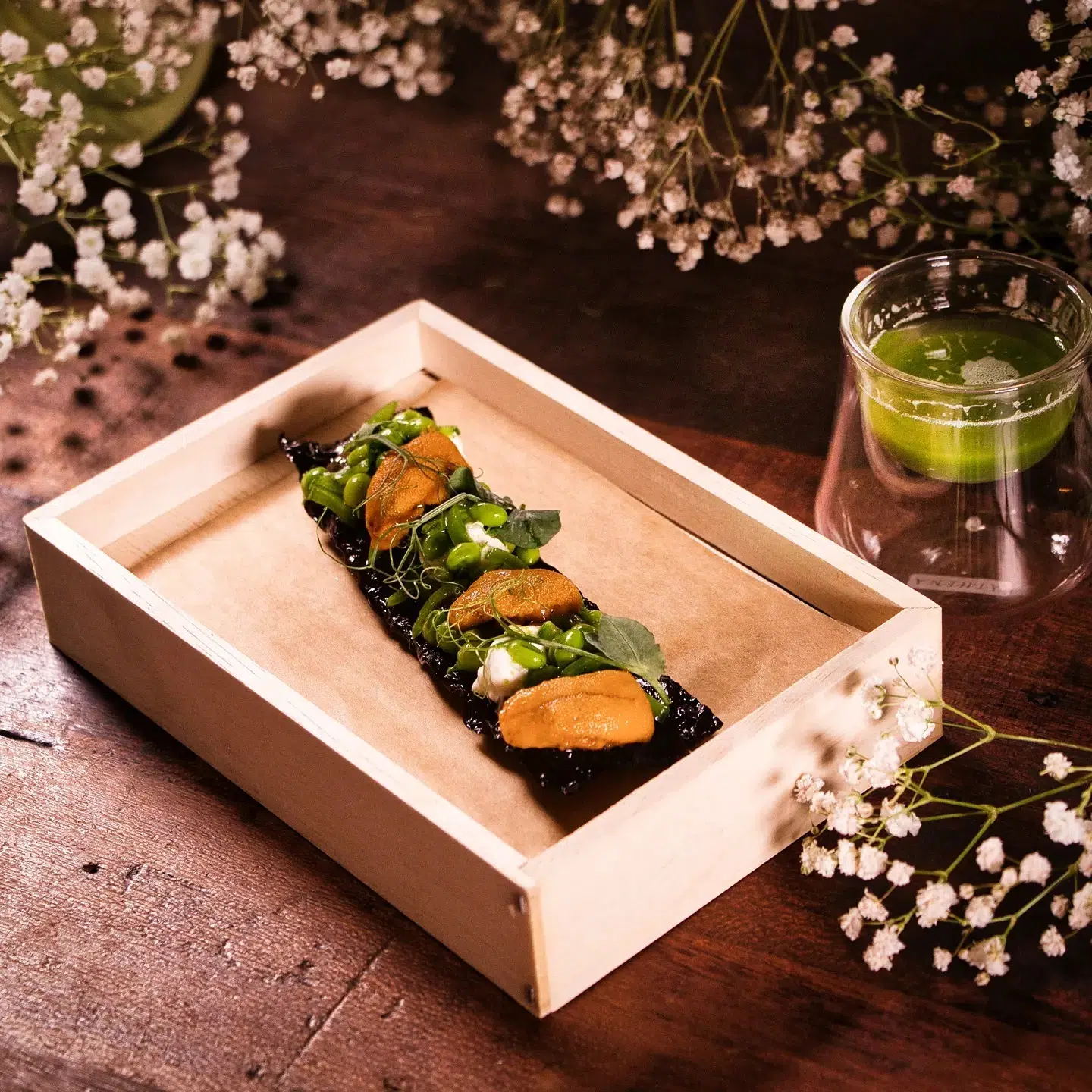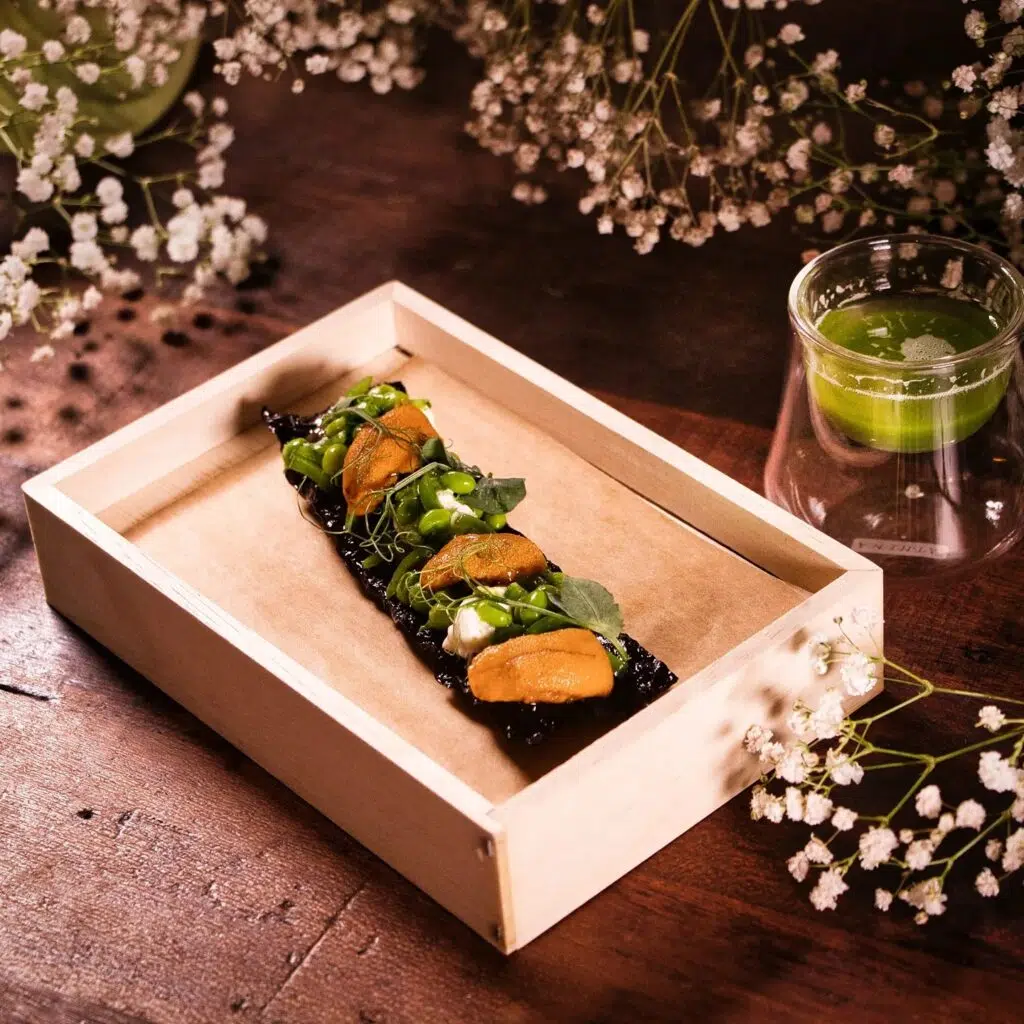 Once hailed by Zagat as one of the 'Top 10 Trendiest Eateries Worldwide,' Lolla stands as an iconic tapas bar established by a Singaporean visionary. This culinary hotspot specializes in fusion cuisine, presenting Mediterranean-inspired small plates designed for communal indulgence. A prominent focus here resides within the realm of seafood, with delectable offerings like prawns and scallops. Signature dishes include the luscious squid ink custard and the exotic sea urchin.
Location: 22 Ann Siang Rd, Singapore.
Arab Street (also known locally as Kampong Glam)
Singapore often presents itself as a mosaic of distinct neighborhoods, each with its own unique character. Arab Street, also dubbed the Muslim Quarter, pays homage to Arab culture. Here, you'll discover charming tea and coffee establishments showcasing local brews, as well as an abundance of cafés that proudly offer hookah pipes with an array of flavored tobacco as part of their eclectic menu.
Location: Arab Street, Kampong Glam, Singapore.
Samy's Curry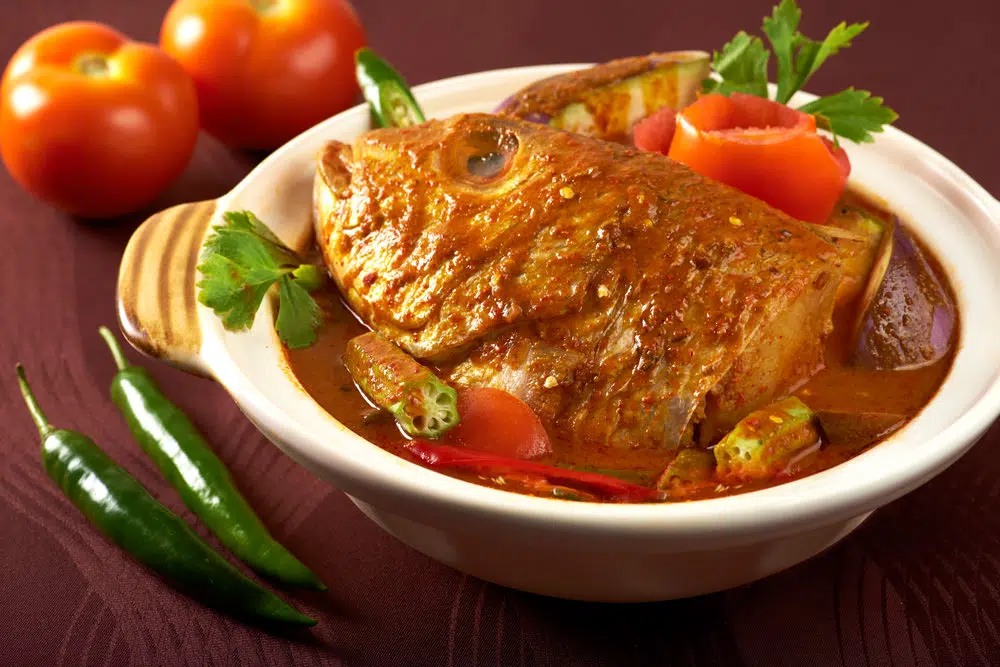 Established back in the 1950s, Samy's Curry remains an iconic dining destination in Singapore, celebrated for its delectable array of curry-infused dishes. This family-owned gem specializes in South Indian cuisine, and the special dish for adventurous diners is undoubtedly the Fish Head Curry, crafted from a secret blend of in-house spices. If fish heads don't pique your interest, fear not, as Samy's offers a plethora of alternative options to tantalize your taste buds.
Location: 25 Dempsey Rd, Singapore 249670.
Long Beach Seafood Restaurant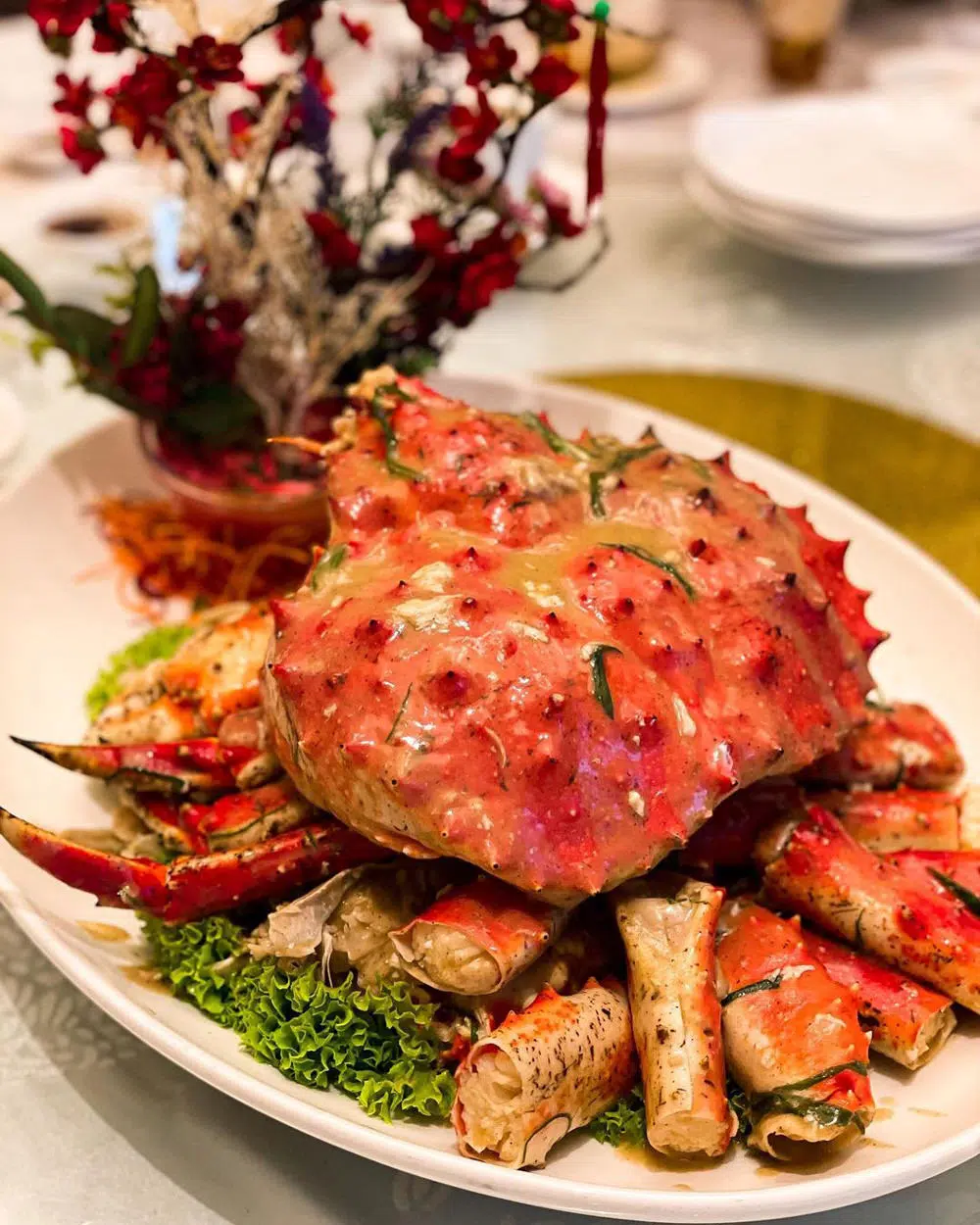 Seafood reigns supreme in Singapore, with celebrated dishes such as 'drunken cockles,' barbecued stingray, and the undisputed champion, chili crab. Brace yourself for an explosion of chili and spices when you savor the renowned chili crab at Long Beach Seafood Restaurant, a dish that traces its roots back to the 1950s.
Location: 1018 East Coast Parkway, Singapore.
Hawker Centres
Tekka Centre
Singapore boasts a sizable Tamil population hailing from South India, and for a genuine taste of Indian flavors, make your way to Tekka Centre in the vibrant Little India district. Expect to savor traditional dishes such as curries, Indian bread like roti canai and martabak, and crispy delights like samosas. You can either sit down for a full-fledged meal or grab portable bites, such as cups brimming with chickpeas fried to perfection with mustard seeds.
Location: Intersection of Serangoon Road and Bukit Timah Road.
Tanglin Halt Hawker Centre
Distinguished among Singapore's many hawker centers, Tanglin Halt Hawker Centre earns its reputation, thanks in no small part to its legendary peanut pancakes. These pancakes, thick and fluffy, are generously stuffed with crunchy roasted peanuts. Alternatively, explore other delectable options, from curry puffs to heartier meals like roasted duck noodles and the traditional creamy Singapore seafood laksa.
Location: 48A Tanglin Halt Road, Singapore.
Tiong Bahru Market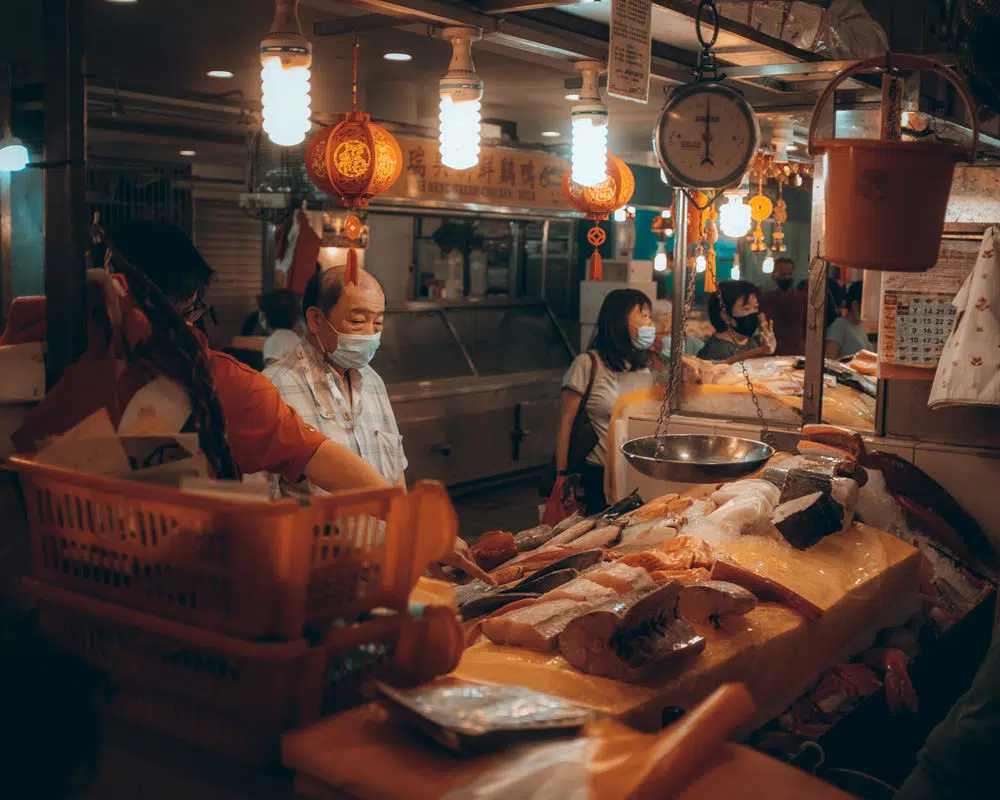 Another gem in Singapore's hawker scene, Tiong Bahru Market beckons with local favorites, including steamed rice cakes crowned with preserved pickled radish and fermented dried shrimps. Other must-tries encompass fried noodles like Kway Teow, fish ball soup, fried bean curd, and refreshing local beverages such as soybean milk or freshly pressed sugar cane juice.
Location: 83 Seng Poh Road, Singapore.
Old Airport Road Food Centre
Locals proudly vouch for Old Airport Road Food Center, hailing it as one of the finest hawker centers in Singapore. Here, you can savor specialties like the renowned Singapore Carrot Cake, Hainanese Chicken, and Oyster Omelets. Don't miss their splendid selection of roasted meats, featuring honey-glazed chicken wings and succulent duck.
Location: 51 Old Airport Road, Singapore.
Changi Village Hawker Centre
Among Singapore's illustrious hawker centers, Changi Village Hawker Centre stands tall for serving the city's most esteemed Nasi Lemak. This breakfast delight, popular in neighboring Indonesia and Malaysia, features coconut rice adorned with anchovies and an assortment of condiments, typically wrapped in a fragrant banana leaf. Even if you miss breakfast hours, the diverse stalls offer an array of culinary delights, from the ubiquitous Carrot Cake to steamed buns and fried noodles with sticky spare ribs.
Location: 2 Changi Village Road, Singapore.
Top 5 Must-Try Singaporean Dishes
Chili Crab: Local mud crab expertly fried in a medley of chili sauce, tomato sauce, and sweet and sour flavors.
Hainanese Chicken (known as 'chicken rice'): Tender boiled or roasted chicken served alongside a bowl of chicken broth and rice cooked in chicken stock infused with ginger.
Carrot Cake: Despite its name, this dish is not made from carrots but rather with rice flour and grated radish, creating a unique pancake.
Seafood Laksa: A flavorful seafood soup, boasting a base of stock and coconut milk, mingled with noodles and crowned with fishcakes, bean sprouts, and seafood treasures like cockles or prawns.
Nasi Lemak: Fragrant coconut milk-infused rice accompanied by dried fish and zesty chili paste, a beloved breakfast staple.
Bars and Nightlife
In contrast to many other cities in Southeast Asia where obtaining and enjoying alcohol in public can prove challenging, Singapore boasts a vibrant and dynamic nightlife scene. Numerous hawker centers readily offer beer, with the local favorite being Tiger Beer. Should you prefer to extend your evening, the city teems with bars and nightclubs, inviting you to dance the night away or leisurely savor a drink while gazing upon the city's glittering lights.
Ah Sam Cold Drinks Stall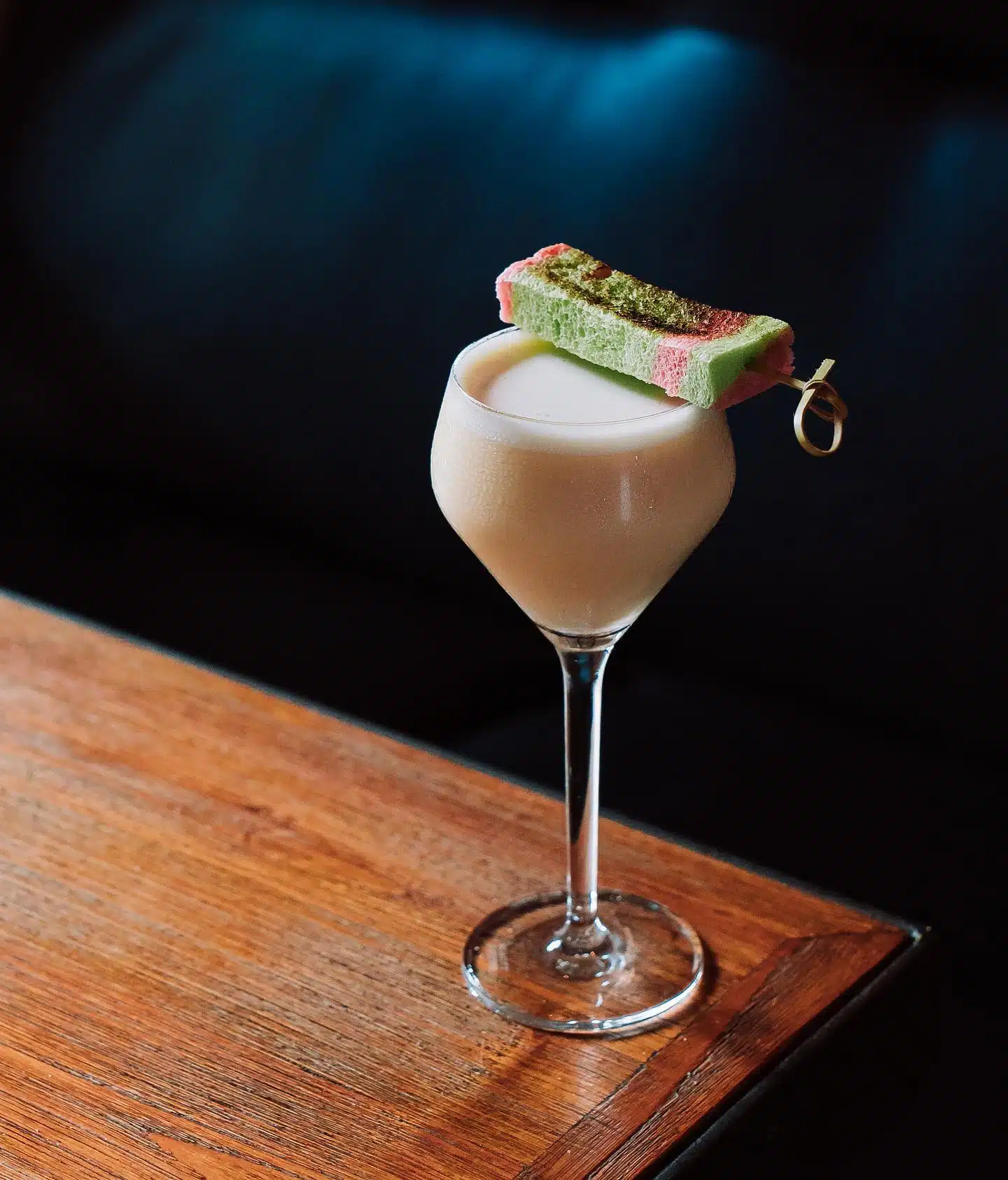 The name might lead you astray, so don't anticipate soybean milk or sugar cane juice at this establishment. Instead, you'll stumble upon a hidden gem situated on the second floor of a traditional shop house. It exudes coziness and charm, where you can indulge in a variety of classic cocktails or request a personalized twist on your favorite, all of which the staff will eagerly concoct for you.
Location: 60 Boat Quay, Singapore.
The Long Bar at Raffles Hotel
While you can savor Singapore's signature libation, the Singapore Sling, at various locales throughout the city, there's arguably no better place to sample it than at the Long Bar within the iconic Raffles Hotel, where it is rumored to have originated. Nestle onto the inviting balcony and savor your drink while nibbling on peanuts, the shells of which are traditionally discarded on the floor, to be tidied up once you depart. This cocktail, a delightful blend of gin, cherry brandy, pineapple juice, and bitters, is often garnished with a delightfully kitschy cherry. Though not an economical choice, it's all about the experience.
Location: 1 Beach Road, Singapore.
Bikini Bar
Amidst the sweltering and humid cityscape, visitors often overlook Singapore's coastal charm. Venture away from the city center and make your way to Sentosa Beach Walk, where you'll discover Bikini Bar—a venue that aspires to evoke the ambiance of a Balinese beach bar, even offering Indonesian Bintang Beer. While patrons frequently sport bikinis here, it's by no means mandatory, providing a refreshing departure from some of the more formal drinking establishments in Singapore's upscale bars and restaurants.
Location: 50 Siloso Beach Walk, Singapore.
Hotels
Grand Hyatt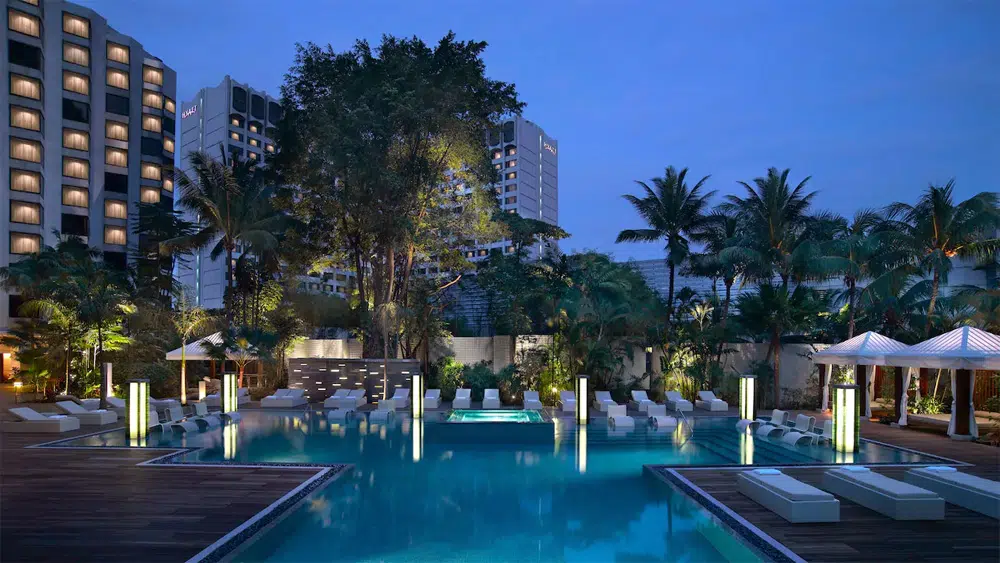 For an elevated hotel experience with a luxurious touch, The Grand Hyatt stands out as a powerhouse of opulence and sophistication. Anticipate the customary five-star amenities and top-notch service, coupled with exquisite dining options on-site. StraitsKitchen, for instance, spotlights local flavors and dishes prepared in an open kitchen setting—a twist on the traditional hawker center. If you lean towards fusion or Western cuisine, Mezza9 offers a live kitchen experience and kitchen shows, where your meal is crafted to order right before your eyes. Situated close to Orchard Road's bustling heart, The Grand Hyatt places you right in the epicenter of the action, a major allure for many discerning travelers.
Location: 10 Scotts Road, Singapore.
Fullerton Hotel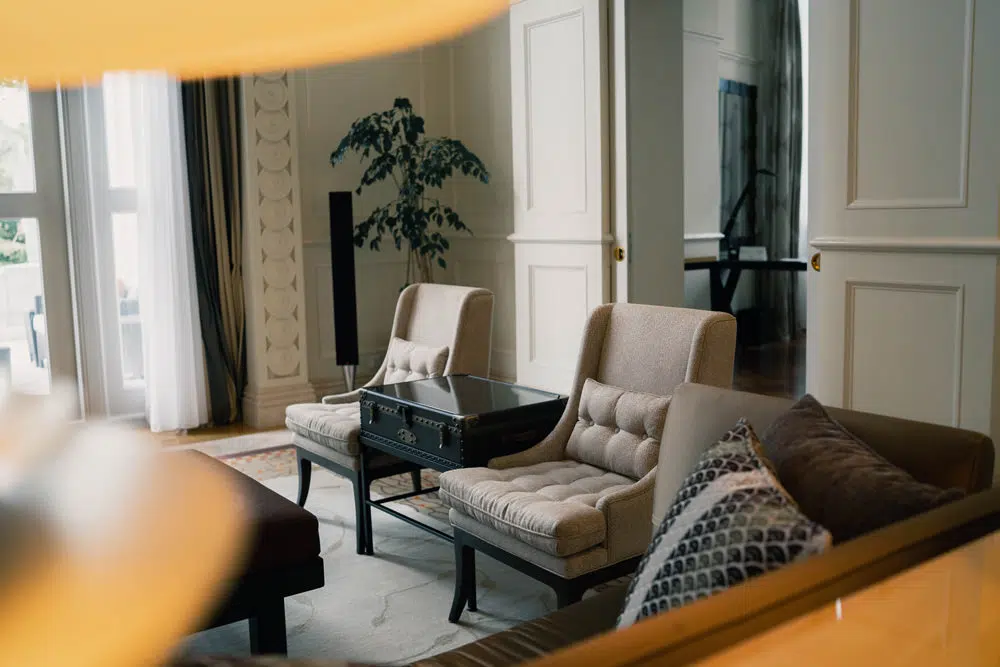 One of the Fullerton Hotel's* biggest claims to fame is that it is housed in a restored post office building that dates from the 1920s and thus the British colonial period, so expect heritage features and great service. This is a beautiful and luxurious choice that overlooks the Singapore River, and there are suites available with stunning views that stretch to Marina Bay. It has all the perks you would expect for a five-star hotel, such as a spa, a gym, restaurants, and a bar.
1 Fullerton Square, Singapore 049178.
Raffles Hotel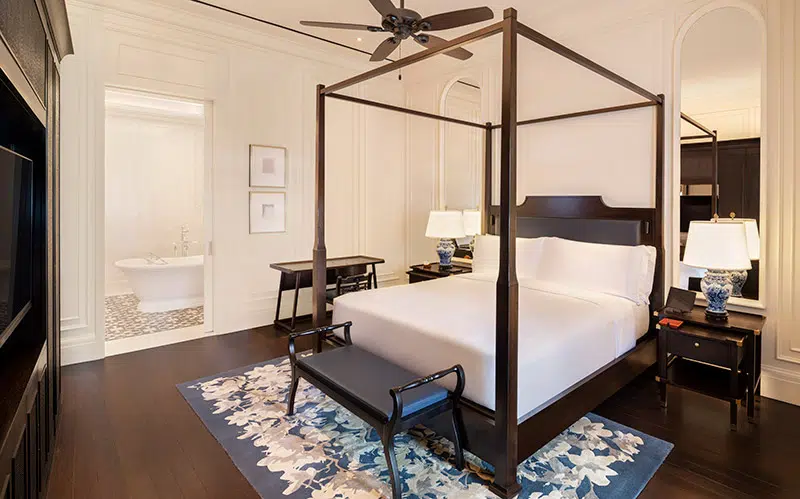 Arguably Singapore's most renowned hotel, Raffles Hotel* doesn't come cheap, but it does offer an indulgent experience where each room is essentially a suite and parlor. It's exquisitely designed and built in the traditional British colonial style that has solidified its iconic status. A stay here promises luxury, allowing you to envision yourself seated at the very desk where famed writers like Somerset Maugham once penned their works. This choice is particularly appealing for special occasions such as birthdays or weddings, immersing you in an atmosphere of pampering the moment you step through its doors.
Location: 1 Beach Road, Singapore.
Hotel 1929
If you're seeking a boutique hotel brimming with character, Hotel 1929* is a stellar option. Each room boasts a unique style and is adorned with heritage elements, such as monochrome artwork and chic distressed wooden furnishings. The staff and fellow guests exude a cool and friendly vibe, adding to the overall appeal.
Location: 50 Keong Saik Rd., Singapore.
Wanderlust Hotel
This establishment* is also owned by the same individuals behind Hotel 1929, ensuring a similar stylistic flair in a distinct locale, this time in Little India. Design takes center stage here, with considerable effort and investment dedicated to the restoration of what was once a school building from days gone by. It's a quirky choice in a prime location, perfect for those who prioritize a stylish abode for their brief sojourns.
Location: 2 Dickson Rd, Singapore.
The Pod Boutique Hotel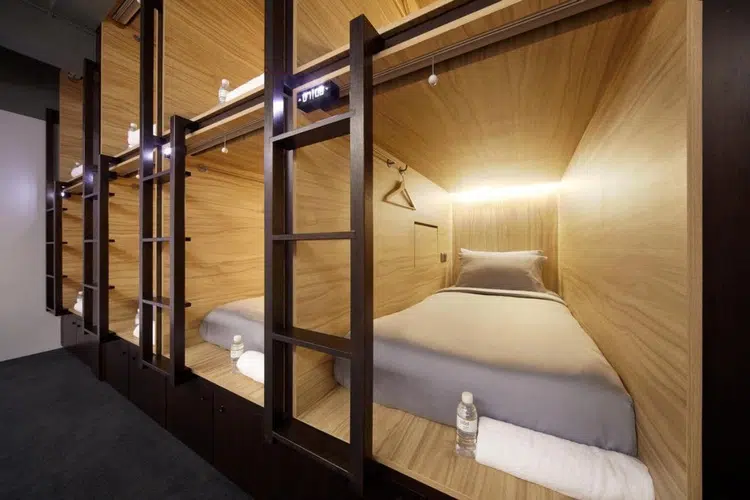 In a city where space is a precious commodity, it's no surprise that someone conceived the idea for The Pod*, a capsule hotel nestled near the Muslim quarter of Arab Street. As one would expect, it's compact and snug, yet as a boutique hotel, it offers a refined, well-crafted interpretation of the streamlined capsule concept. The pods are separated by blinds, and you have the option to select different pod versions, although they all share the same dimensions. Additionally, each pod includes a convenient worktable for your use.
Location: 289 Beach Rd, Level 3, Singapore.
Shopping
For many, a pilgrimage to Singapore isn't complete without indulging in some retail therapy. While it may not quite rival the shopping meccas of Hong Kong, Singapore offers an exceptional array of choices that cater to every taste and wallet size. From vibrant local markets to upscale retail emporiums, this city-state has it all.
Mustafa Centre
If you're seeking a 24-hour shopping haven that never hits the snooze button, Mustafa Centre beckons. This colossal complex houses a department store complete with a supermarket, and its shelves boast a cornucopia of items for your shopping pleasure. Think household appliances, cutting-edge electronics, luxurious fabrics, stylish attire, dazzling jewelry, entertainment in the form of DVDs and books, and a myriad of souvenirs to commemorate your visit.
Location: 145 Syed Alwi Street, Singapore.
Bugis Street Market
Once a notorious red-light district and a sailor's haven for shore leave, Bugis Street Market has transformed into a hip destination for young Singaporeans seeking a diverse shopping experience. Prepare to be enchanted by an array of offerings, including souvenirs, fashion-forward clothing, trendy accessories, chic hair salons, nail bars, and, intriguingly, a vestige of its colorful past—a discreet adult boutique.
Location: 3 New Bugis Street, Singapore.
Paragon
Nestled along Orchard Road, Singapore's shopping epicenter, Paragon stands as a mall complex that predominantly showcases high-end boutiques and globally recognized fashion labels. Wallets may tremble, but the allure is undeniable. With over 200 stores sprawled across six levels, you'll uncover a treasure trove of clothing, exquisite jewelry, toys, wellness essentials, and delectable dining options, along with spas and salons to pamper yourself.
Location: 290 Orchard Road, Singapore.
Haji Lane
Tucked away in the heart of the city's Muslim quarter, Haji Lane is the quintessential haven for avant-garde fashion enthusiasts. Rows of charming shops and boutiques await, showcasing the creations of emerging designers. There's no glitzy mall here—just quaint traditional shophouses serving as charming storefronts. In addition to the unique clothing boutiques, you'll find craft stores, fabric emporiums, and home furnishing shops. And when you're in need of a break, indulge in kitschy delights like artisanal ice cream parlors and quaint bakeries.
How to Visit Singapore on a Budget
Singapore often gets flak from travelers for being pricier than its South East Asian counterparts. While there's some truth to that, you can still savor the city's charm without breaking the bank by following these handy tips:
Considering the culinary delights awaiting you at hawker centers, chowing down here is hardly a chore. These food havens are renowned for offering some of the city's most delectable dishes. With a plethora of options, you can eat at the same hawker center for all three meals and still savor something new each time. If sticking to one spot doesn't tickle your taste buds, explore different hawker centers scattered across the city. The food is consistently quick and scrumptious, and you can indulge in a hearty meal for as little as S$2.
Explore Museums and Gardens
While some activities in Singapore like the Singapore Flyer or Universal Studios might pinch your wallet, there's plenty you can do for free. Singapore's well-developed infrastructure ensures that public places like parks, gardens, and museums often don't charge an entrance fee. You can spend an entire day immersing yourself in Singapore's history, flora, fauna, and arts without spending a dime. Even the iconic Merlion is yours to admire and photograph for free.
Stay in Chinatown or Little India
Accommodation costs can be a major budget buster in Singapore. However, you'll find a range of budget-friendly options and hostels in and around Chinatown and Little India. If you typically lean towards pricier guesthouses due to safety and cleanliness concerns, Singapore is the perfect place to step out of your comfort zone and give budget accommodations a shot. Rest assured, security and cleanliness are typically not issues in Singapore. A quick check before booking can put your mind at ease.
Navigating public transportation can be a headache in many foreign destinations, with language barriers and confusion abound. Thankfully, Singapore boasts one of the world's most user-friendly transit systems. It's well-marked, intuitive to use, and significantly cheaper than relying on taxis, which can quickly inflate your travel expenses. Give the MRT or buses a try and consider purchasing a special tourist day pass for unlimited travel at reduced rates. Exploring on foot is also an option in many areas of the city, though the humidity can be a challenge. However, unlike some South East Asian destinations, Singapore boasts well-maintained sidewalks, sparing you from worries about stepping into a pothole.
Recommended Day Itinerary
Ya Kun Kaya Toast | 9:00 AM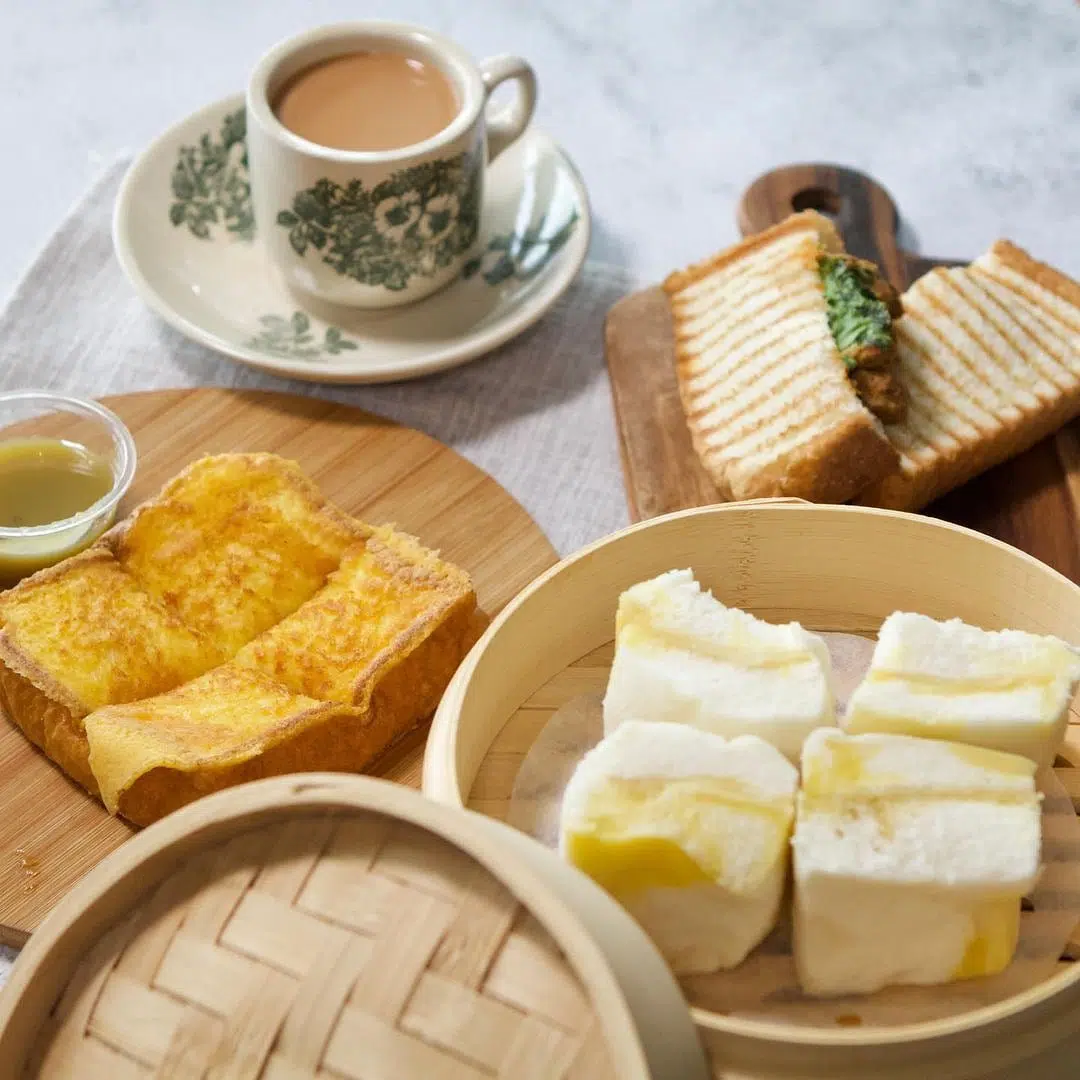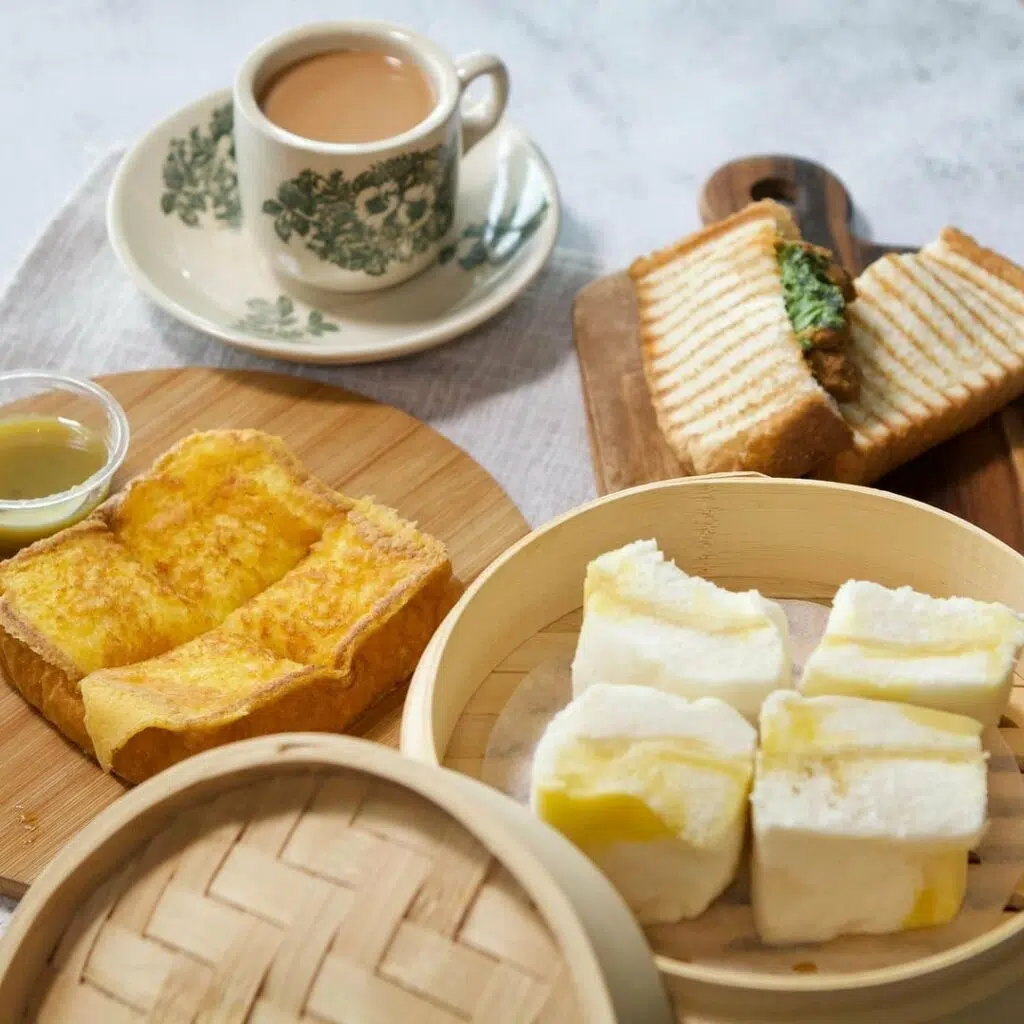 1-2 hours
Kickstart your day, just like the locals do, with a delightful helping of toast slathered in kaya jam – a delectable fusion of sugar, eggs, and fragrant pandan leaves. While Ya Kun Kaya Toast has evolved into a renowned chain across the city, the original establishment, lovingly operated by the founding family, is nestled within Far East Square. For an authentic experience, make your way there. The toast is traditionally savored with a steaming cup of black coffee or robust tea.
Location: Far East Square, Singapore.
Singapore National Museum | 11:00 AM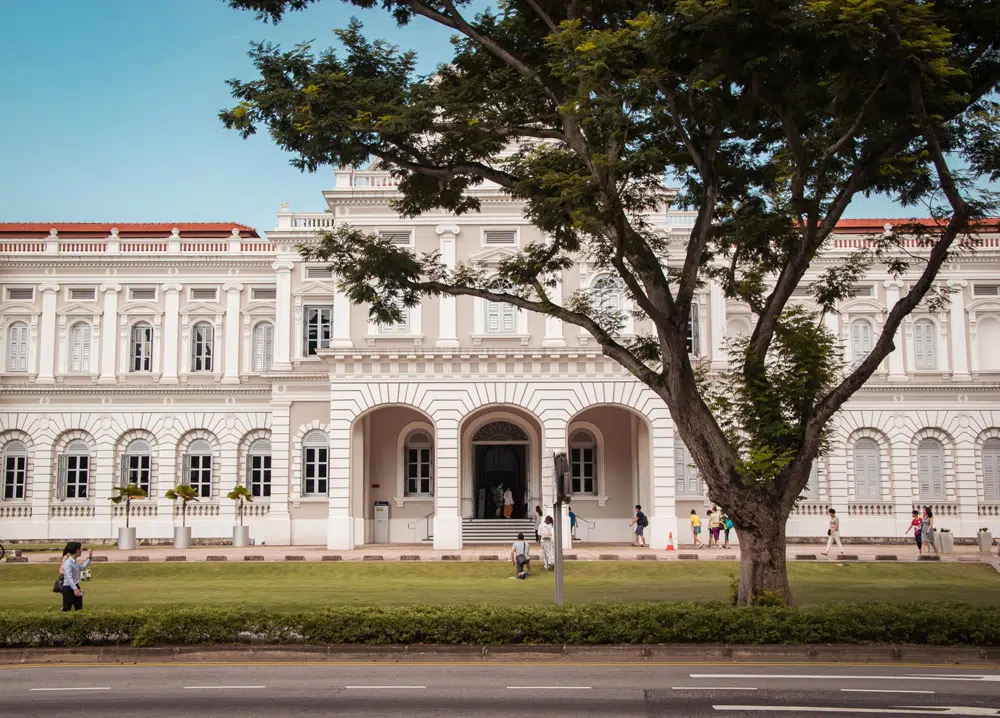 2-3 hours
Following your morning repast, venture to the Singapore National Museum for a comprehensive insight into Singapore's storied history. Immerse yourself in the "700 Years of Singapore" exhibition, which spans from the 14th century to the present day, offering an all-encompassing narrative of Singapore's origins and its evolution into the vibrant city it is today.
Location: 93 Stamford Road, Singapore.
Chin Chin Eating House | 1:00 PM
1-2 hours
If you're hankering for Singapore's iconic Hainanese Chicken as your midday meal, look no further than Chin Chin Eating House. This unassuming, old-school eatery, adorned with modest signage, is renowned for serving some of the city's finest chicken rice. While they also offer delectable roasted meats like pork chops and duck, the main attraction here is unquestionably the succulent chicken paired with fragrant rice steeped in savory broth.
Location: 19 Percival Street, Singapore.
Embark on a Boat Tour | 3:00 PM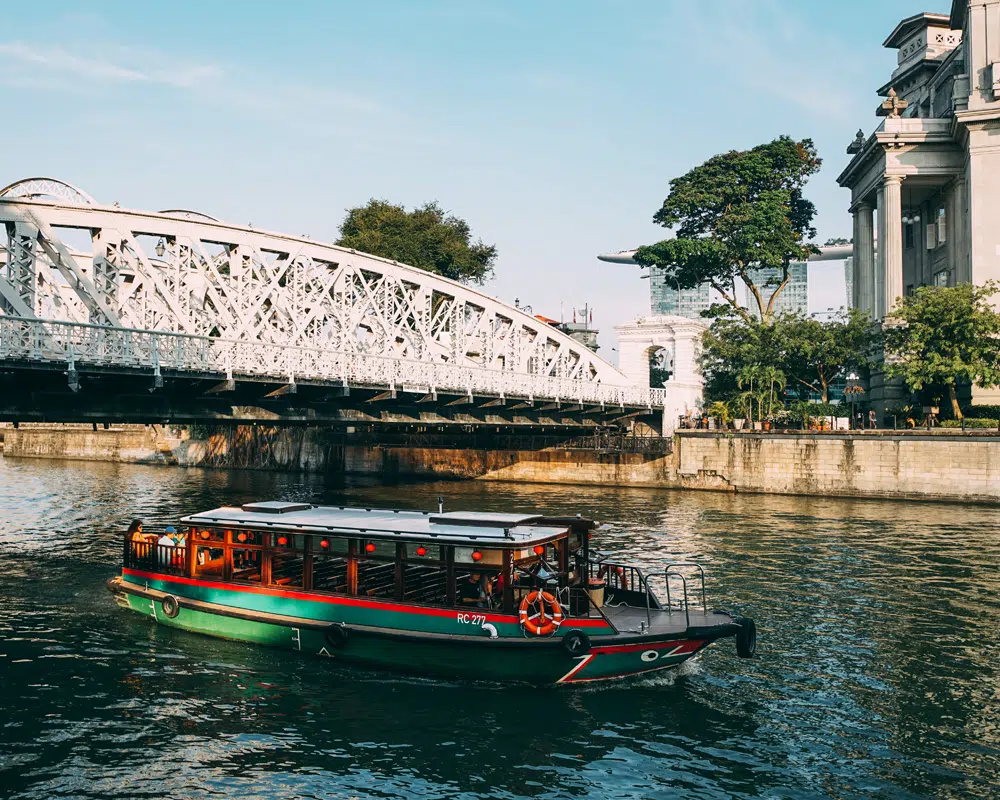 2-3 hours
Embark on a captivating aquatic adventure to explore the cityscape from a unique perspective. Join a boat tour that navigates Marina Bay, affording you breathtaking views of iconic Singaporean landmarks, including the famed Merlion. Various tour operators, such as Singapore River Cruise, Bumboat, and Duck & Hippo River Tour, offer this experience. The tours commence at Clarke Quay, meandering along the river while providing informative commentary on Singapore's rich history and culture.
Location: Clarke Quay, Singapore.
1-2 hours
As the sun sets, Lau Pa Sat, also known as Telok Ayer Market, transforms into a bustling epicenter of culinary delights. This sprawling market is one of Singapore's largest and most renowned. After dusk falls, you'll be greeted by a vibrant array of stalls grilling an assortment of delectable dishes over scorching coals. The aroma of smoky, sizzling meats is simply irresistible. Take a seat at one of the alfresco plastic tables or wander from stall to stall, savoring a variety of skewered delicacies. You can't go wrong with any choice.
Location: 18 Raffles Quay, Singapore.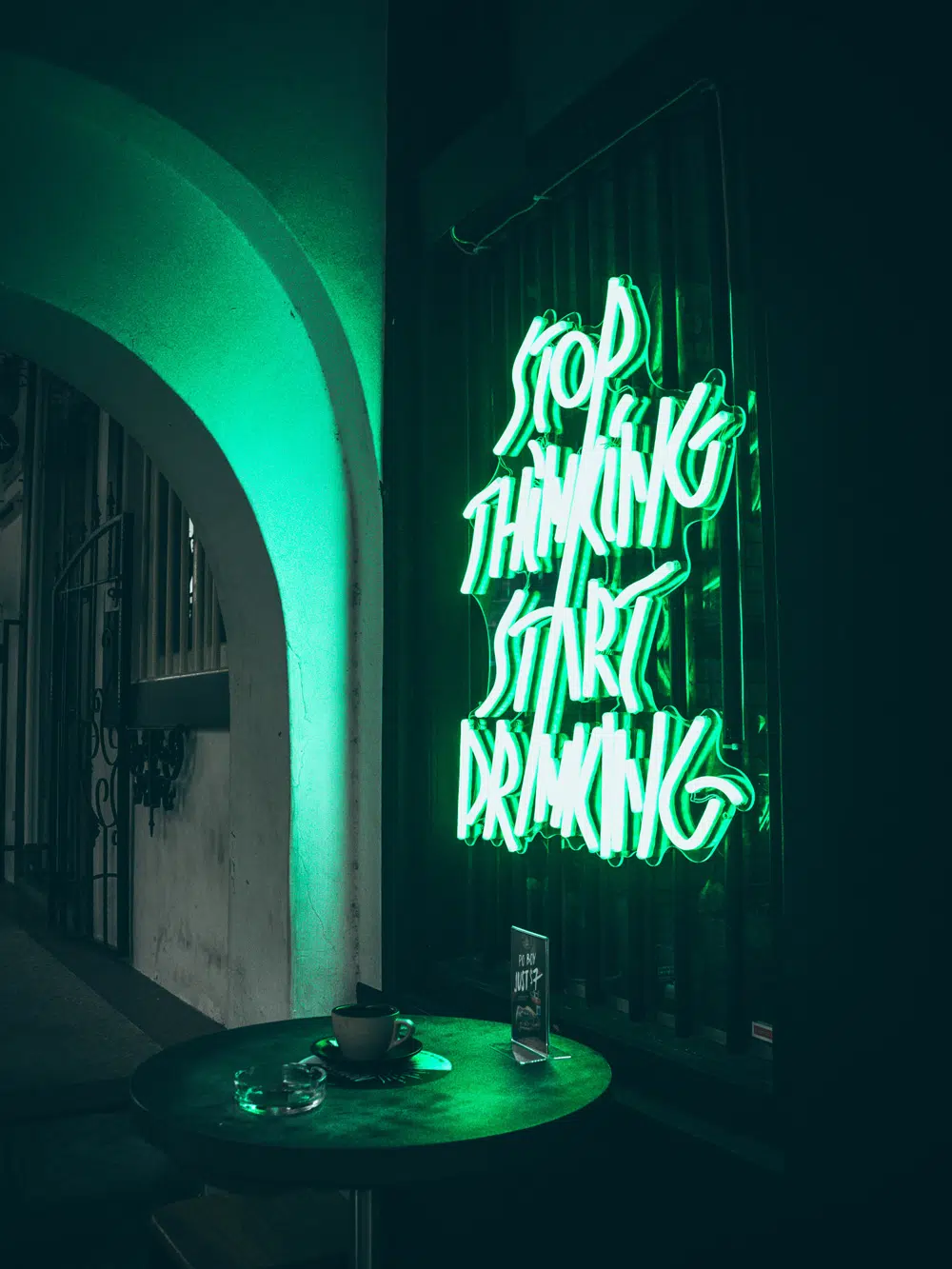 2-3 hours
As night falls, make your way to Club Street, which cuts through the heart of Chinatown and pulsates with life. Here, you'll discover a myriad of bars, dining establishments, and clubs, offering you the flexibility to wind down with a leisurely drink or revel in a lively night out, depending on your energy levels and budget. This once-sleepy enclave has undergone a remarkable transformation and now attracts the trendy and vibrant crowd.
Location: Club Street, Chinatown, Singapore.
Essential Information
Transportation
Singapore has a highly efficient public transportation system that makes it easy for tourists to get around the city. The Mass Rapid Transit (MRT) system is a network of trains and stations that connect all major areas of the city. You can purchase single-trip tickets or opt for tourist passes that offer unlimited rides for a fixed duration.
Public buses also provide extensive coverage throughout the city, and the Singapore Tourist Pass allows unlimited bus and train rides. Taxis are readily available and are metered. Ride-sharing services like Grab are also popular and convenient.
The city is known for its cleanliness, and this extends to its transportation systems. Eating, drinking, or chewing gum on public transport is generally discouraged or prohibited to maintain cleanliness standards.
Currency
The currency used in Singapore is the Singapore Dollar (SGD), and it's typically abbreviated as "$" or "S$" to distinguish it from other dollar-denominated currencies. Credit and debit cards are widely accepted in most places, including restaurants, hotels, and shops. ATMs are readily available throughout the city, making it easy to withdraw cash if needed.
Safety
Singapore is considered one of the safest cities in the world. Violent crime is rare, and the city has strict laws and regulations in place to ensure safety and orderliness. However, like any other destination, it's essential to exercise common sense and take typical precautions, such as safeguarding your belongings and being aware of your surroundings, especially in crowded areas.
Language
English is one of the official languages of Singapore and is widely spoken and understood throughout the country. Other languages commonly spoken include Mandarin Chinese, Malay, and Tamil. As a tourist, you'll have no trouble communicating in English.
Best Time to Visit
Singapore has a tropical rainforest climate, characterized by high humidity and temperatures that remain relatively consistent year-round. The city is a year-round destination, but the best time to visit is during the dry season, which typically falls between February and August. During this period, you'll experience less rainfall and more comfortable temperatures.
The months of December and January can be rainy, so if you prefer to avoid heavy downpours, it's best to plan your visit during the drier months. Keep in mind that Singapore's weather can be hot and humid, so be prepared for warm conditions if you visit during any time of the year.
Local Laws and Customs
Singapore stands out as an exceptionally secure urban hub, where the majority of travelers can expect a hassle-free experience. This unparalleled safety can be largely attributed to Singapore's vigilant enforcement of a range of stringent regulations, as well as its less-publicized, but no less significant, minor infractions that can incur substantial fines.
These regulations encompass
Crossing streets outside designated crosswalks.
Disposing of litter improperly.
Smoking in public areas or within indoor establishments serving food.
Spitting in public spaces.
Possessing and chewing gum.
Local Customs and Etiquette
Respect for Elders: In Singaporean culture, respect for elders is highly valued. When interacting with older individuals, it's customary to use titles such as "Mr." or "Mrs." followed by their last name unless invited to use their first name.
Shoes Off: It's customary to remove your shoes before entering someone's home. This practice is also observed in many traditional restaurants.
Public Behavior: Singapore is known for its strict laws, and public behavior is closely monitored. Chewing gum is not sold in the country, and littering, spitting, and vandalism are subject to heavy fines. It's essential to adhere to local regulations.
Dress Modestly: When visiting places of worship, it's important to dress modestly. Cover your shoulders, wear knee-length or longer skirts or pants, and remove your shoes when entering religious sites.
Tipping: Tipping is not a common practice in Singapore, as a 10% service charge is typically added to restaurant bills. However, it's still appreciated if you want to leave some loose change as a gesture of goodwill.
Queuing: Singaporeans take queuing very seriously, and cutting in line is considered rude. Always wait your turn in an orderly fashion.
Conclusion
Singapore is a dynamic and enchanting destination that offers a delightful blend of cultures, cuisines, and attractions. Whether you're exploring the vibrant streets of Chinatown, taking in the futuristic beauty of Gardens by the Bay, or savoring a bowl of laksa at a hawker center, you'll find that Singapore has something to captivate every traveler. With its efficient transportation, impeccable safety record, and welcoming atmosphere, the Lion City is ready to welcome you for an unforgettable adventure. So, pack your bags, prepare your taste buds, and embark on a journey to explore the wonders of Singapore.
Note: Links marked with an asterisk (*) or this symbol

are so-called affiliate links. We get a small commission on purchase or booking to finance this page. There are no additional costs for you!