After long car or biker tours, American motels turn out to be the perfect place to stay for a comfortable, practical and inexpensive night. The 24-hour accessible travel accommodations in convenient locations stand for freedom and adventure, score points with parking spaces directly in front of the door and facilitate the loading and unloading of luggage thanks to short distances. On a motel vacation in the U.S., travelers can experience old-school America up close and personal. Grand Canyon, New Jersey, California, Lake Tahoe – everywhere in the land of unlimited opportunities there are guesthouses at extra low accommodation prices – perfect for discovering the top highlights on an adventurous road trip.
Round trip with overnight stays in motels – on site or book in advance?
Many people think of a motel in the USA as a simple vacation accommodation without much comfort, but with annoying street noise. But today, low-budget travelers and roaddrivers can find modern motor lodges with cozy interiors, fantastic panoramas and all the amenities. Of course, there are also the simple room categories without any extras. If you're touring Miami, San Francisco or New Orleans by motorcycle or rental car and want to save on your travel budget, you can save a lot of money with a motel vacation. The central question before starting the vacation: Should I book the accommodations directly on site, or rather in advance from home? Travel experts recommend pre-booking the first and last day of a planned motel trip to the U.S. and also securing tickets for tourist attractions during the season.
There are quite a few hotel and motel chains in America. Bayment Inn is strongly spread in Ohio, San Francisco and Michigan. The properties impress with consistent comfort and are mostly equipped with indoor pools. Round-trip travelers looking for temporary accommodations in North America make a solid choice with a Studio 6 motel. The domiciles, with fully equipped kitchens and comfortable sleeping areas, offer access to many restaurants and shopping centers. Prices of motorist hotels fluctuate significantly and often increase rapidly on weekends. It is therefore advisable to look around the Internet on booking platforms for cheap offers without reservation costs before starting your trip. Attractive discounts are available for many motels:
Early booking discounts
Customer card: collect points for free nights
Promotions on Facebook or motel websites
Discounts for advance payment
Senior discounts
Motel vs. hotel – what are the differences?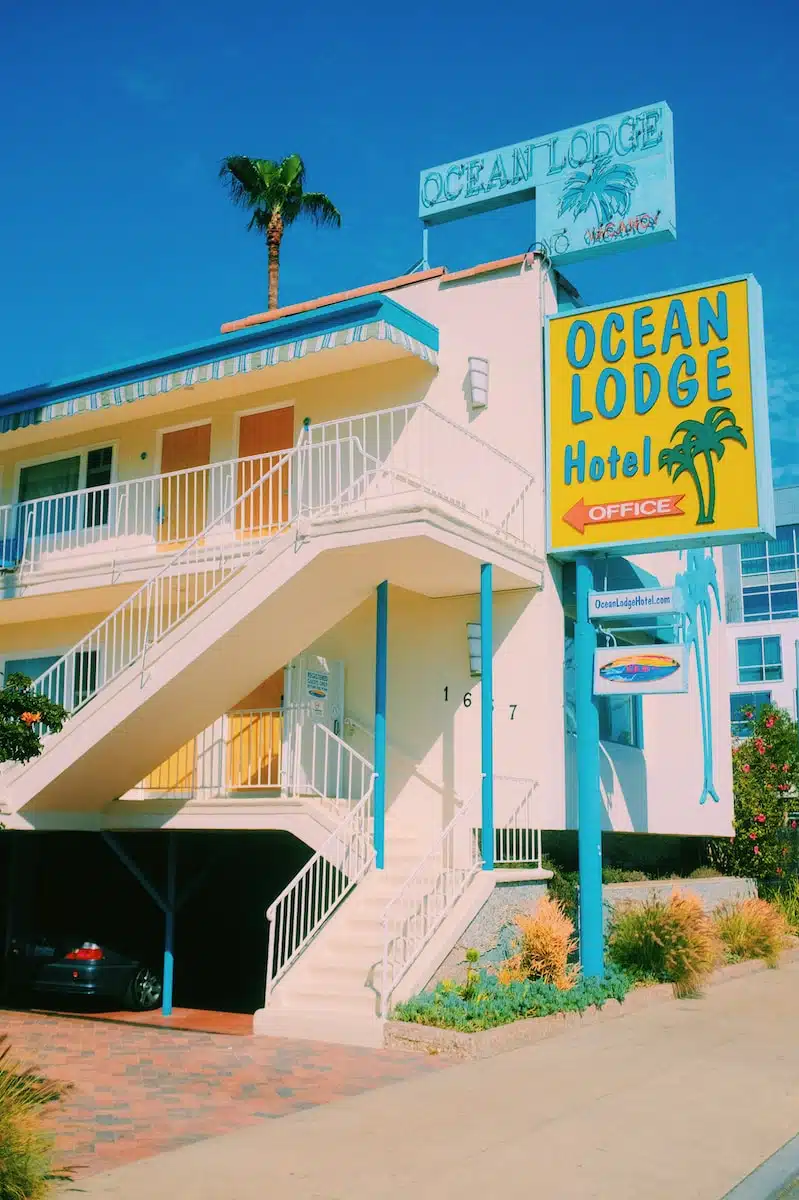 Hotels and motels in the U.S. are both guesthouses with single and double rooms in the program, but there are clear differences. A hotel, depending on the star category, offers many additional services such as spas, restaurants, and conference rooms in addition to accommodations. In each hotel, guests will find a reception desk and can have their breakfast in the restaurant.
A motel – the term is a nested word, composed of motor & hotel – is located mainly on the outskirts of cities or trunk roads, provides ample parking for cars, trucks, and motorcycles near the accommodation. A motel usually does not have a front desk and allows access to room directly from the vehicle parking area. Motels serve short stays and are used for stopovers on long-distance car or motorcycle trips.
In the past, motel rooms were equipped with simple doors facing the parking areas, which allowed for convenient coming and going. Today, many motels have inward-facing entrance doors with access points to public areas. Motor lodges are regularly much less expensive than hotel rooms and can be booked spontaneously without reservations in the area.
Motel vacation in the USA means Roadtrip Fun with romance factor in the most beautiful American tour regions. From Chicago to Los Angeles, right across America, the legendary Route 66 leads. Whether by rental car or Harley-Davidson – those who want to experience a grandiose road movie can drive around through lonely landscapes, stop at quaint drive-in restaurants and relax in one of the many hostels, e.g., Desert Inn Motel or Ayres Boardinghouse.
Many of the drive-in hotels have been restored to their original state through extensive restorations and greet weary travelers with iconic "On the Road" signs. Some budget hotels also offer spa guests a leisurely breakfast of crispy bacon, fresh rolls and fragrant coffee.
How do I find the best motels in the USA?
If you want to experience a motel vacation in the USA, you should check the reviews of the accommodations on the Internet beforehand. Whether it's an air-conditioned room with an airport in the immediate vicinity, a retreat with a restaurant, bar and outdoor pool in Carolina Beach, or a domicile with barbecue facilities in Estes Peak, not far from Rocky Mountain National Park – modern motels in America today are complemented by well-kept outdoor facilities, indoor pools, wellness areas, free Wi-Fi and multimedia equipment, so that road trip guests can relax and prepare for the next leg of the day. The easiest way to find the best motels is through metasearch engines and travel rate comparison sites for vacation rentals in the US.
It is important to note that the price comparison portals list numerous destinations. Popular American cities for road trips include Las Vegas, Nashville, Orlando, Atlanta, and Key West. Top US regions include Cape Cod, San Diego, Niagara Falls, Florida, Yellowstone, and Yosemite National Park. Good providers make it easy for America fans to find a motel. The input screens ask for address, vacation destination, region, city or district. In addition, the desired check-in and check-out dates can be specified. Whether only adults or thus children travel is another criterion for the individual motel search.
With simple search functions, many cheap accommodations, but also flights, transfers and rental cars can be discovered for a fascinating motel trip in the USA. Special offers for inexpensive overnight stays with reservations ensure that more dollars stay in the vacation coffers.